In addition to adult sleeping bag onesies, there is also a wearable sleeping bag for kids. They have similar construction (called "Free Walker Design"), but they are designed specifically for smaller people (up to 5'2″ tall).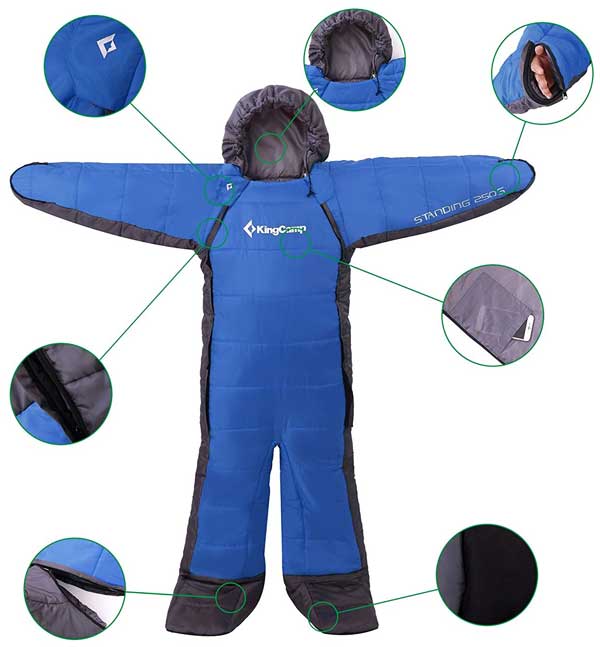 Kids can wear these warm indoor-outdoor onesies on camping trips or playing at home. Plus, they can stay warm in between sports events like tournaments. They can comfortably slide them on right over their regular clothes.
What Makes this Kids' Wearable Sleeping Bag Special?

1. They are just as soft and warm as a regular jacket except they don't have fur on the inside. The polyester fabric, however, makes them a better option than fur because they can wick away moisture more easily.
2. Similar to the Selk'bag, the KingCamp sleeping bags have zip-off booties. Kids can keep their feet warm at night sleeping with the booties attached, plus they walk around in their tennis shoes.
3. Unlike other wearable sleeping bags, though, kids can zip the sleeves off and go sleeveless. Alternatively, they can keep the arms attached and just zip open the hands.
4. The hood helps keep the head warm at night, like a mummy sleeping bag does. Plus, you can wear the hood during the day like you would a jacket. It also has an adjustable drawstring.
5. The KingCamp wearable sleeping bag has another cool feature that I wish my adult sleep sack had: an interior pocket. I don't think you can ever have too many pockets, especially in an outfit that you wear during the day and at night.
For example, this pocket can hold keys, a wallet, a flashlight, sunglasses, a phone and more.
Specs for Kingcamp Wearable Sleeping Bag:
Material: 190T Polyester (fabric guide)
Temperature Rating: 37.4 °F – 46.4 °F
Dimensions: approximately 63″ long x 23″ wide (fits kids up to 5'2″ tall)
Weight: 3 lbs
2 Color Options: Blue, Red
Machine Washable: Yes, in Front Loader
About the Brand KingCamp
By the way, this wearable sleeping bag has a price comparable to many jackets – and many sleeping bags for that matter. It's like you are getting a 2-for-1 deal!

Unfortunately, this kids' wearable sleeping bag does not come small enough for infants or even toddlers. Babies will have to wait until they get a little bigger before they get to enjoy the luxurious comfort of the sleeping bag onesie.