If you like camo and are looking for a wearable sleeping bag, you're in luck. I found 3 different versions of the camouflage sleeping bag onesie!
1. Selk'bag Realtree Camouflage Sleeping Bag Onesie
First of all, Selk'bag makes a hunting style sleeping bag with legs in Realtree Xtra camo.
It has the same fit as the original Selk'bag except for a few key differences:
1. The onesie has a "quiet" microfiber outer shell.
2. It has a more durable and weather resistant finish.
3. The Realtree pattern lets you hide easily amongst the trees. =)
Just like their original design, the Realtree Xtra comes with removable booties and vents in the legs and chest that you can unzip. Therefore, you can easily control the warmth of your outfit. I mean, why take off your pants when you can just unzip the leg, right?
Then, at night, just pull your hands into the sleeves, zip on your booties and pull your hood up. You are ready for bed in a mummy-style sleeper without ever having to change into your pajamas. Every outfit should be like this!
Realtree Selk'bag Sleeping Bag Onesie Specs:
Temperature Rating: 48° F
Sizes: M, L, XL, XL Wide
Material: Soft Polyester, Hand Washable
2. Shaggy Napsack Wearable Sleeping Bag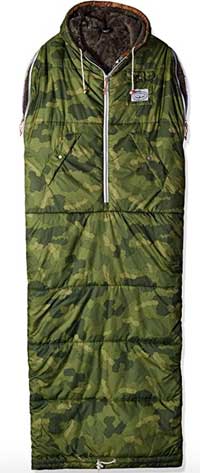 The second camouflage sleeping bag onesie is the
Poler Men's the Shaggy Napsack Wearable Sleeping Bag.
Unlike the Selk'bag above, the Napsack does not have sleeves or legs. Instead, it has zippered openings at the shoulders and an open bottom.
Although this version does not provide the same level of insulation as one with legs and sleeves, it comes with a few advantages.
First of all, it's not as bulky because it has less fabric. If the weather is moderate, it can be nice to go sleeveless.
Second, it wears more like a long jacket than a onesie, which some people like. In fact, you can even hike it up shorter and cinch the bottom drawstring around your waist.
Third, the interior is lined with fur. Thus, the name, "Shaggy".
And fourth, you get 2 front snapped pockets to keep your hands warm when you're outdoors.
Shaggy Napsack Wearable Sleeping Bag Specs:
Temperature Rating: 50° F
Sizes: S, M, L, XL
Material: 100% Polyester, Machine Washable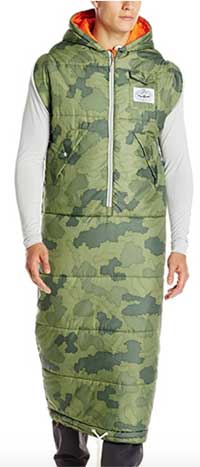 Poler Men's Classic Napsack Onesie
Last, we've got the Poler Men's Classic Napsack.
This one pretty much has the same features as the Shaggy, except for no fur. These 2 Poler wearable sleeping bags I think are best for daytime activewear. However, if you want an outfit that's warm to sleep in, choose the Selkbag.
Classic Napsack Specs:
Temperature Rating: 50° F
Sizes: S, M, L, XL
Material: 100% Nylon, Machine Washable
The price for all 3 is approximately the same, so the best onesie for you will depend on the style you like. And, of course, which camo pattern you like best and whether or not you want that fur…