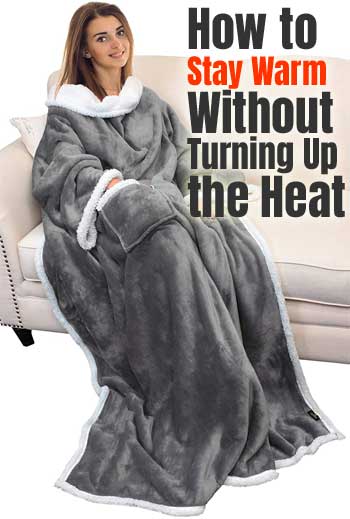 Do you like the idea of a sleeping bag onesie, but prefer something that's faster to put on and take off? You may like a wearable blanket, plus it costs half as much as a sleeper with legs.
How is Catalonia Sherpa Different from a Robe or a Blanket?
It fits like a backwards robe, but it has a longer fit to keep you more cozy. For example, the bottom falls below the feet, the arms are longer and you can turn the neck up like a turtleneck sweater.
If fact, it acts more like a giant blanket than a bathrobe. However, the added sleeves make it easier to work on a laptop, read a book or play video games.
Not to mention, the ultra-plush sherpa fleece feels more soft and luxurious than a regular blanket. Plus, you can reverse it so that the micro mink material goes on the inside if you like that better.
I love these "robe blankets" for watching movies or drinking hot cocoa by the fireplace at night. That said, wearable blankets are great to wake up to in the morning with a cup of coffee.
These micro fleece wearables also work great at keeping you cozy outside at a fire pit. Grab a glass of wine and some music and enjoy the stars outdoors more.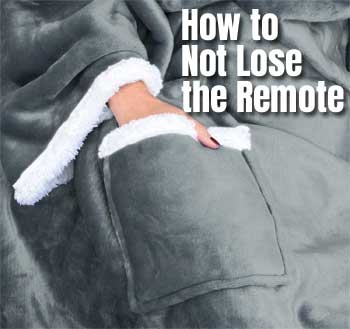 Adult Wearable Blanket VS Informercial Snuggie:
Compared to the As Seen on TV Snuggie, this oversized robe provides extra warmth due to its dual fabric design. (The sherpa fleece on the inside plus the micro mink fleece on the outside.)
In fact, the Catalonia Sherpa weighs more than twice as much as a Snuggie. Not to mention, it features a large fur-lined pocket in the front.
Drawbacks of the Sherpa Blanket with Sleeves:
Although I do like this large sleeper robe, it does come with some disadvantages.
1. No Legs or Feet First of all, it doesn't have legs or feet. Therefore, if you want to walk around in it outside more, it doesn't insulate you as much as a Selk'bag. Plus, you may want slippers to keep your feet warm.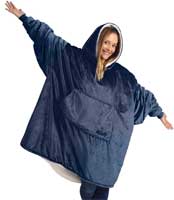 2. No Hood Second, this blanket doesn't come with a hood. If you want to keep your head and neck warmer, you may want to check out "The Comfy".
The popular adult-sized poncho blanket has a large furry hoodie, however, it doesn't come down full-length to cover your legs.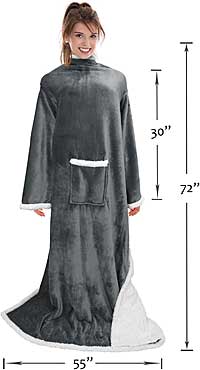 Specs for the Wearable Blanket:
Dimensions: 72″ Long x 55″ Wide
Sleeve Width: 11″ (23″ circumference)
Weight: 3.5 lbs
Material: Micro Mink Fleece, Sherpa Fleece
12 Color/Pattern Options
2 Pocket Style Choices
Machine Washable
One Size
Unisex (for Men & Women)
Brand: Catalonia Fashion
For Sale: Where to Buy the Wearable Sherpa Blanket