What if you could stay warm and cozy all day in your sleeping bag? And what if it had arms and legs and you could walk around in it? That's exactly what you can do in the Selkbag 6G, plus it has a super warm hood.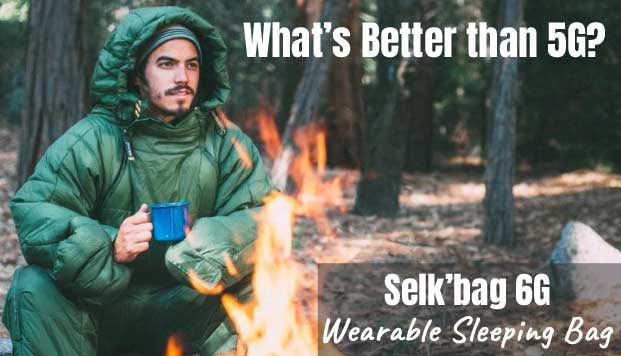 What are the Advantages of a Selkbag Wearable Sleeping Bag?
First, The Selkbag (or Selk'bag) has the warmth of a fully-insulated sleeping bag. Yet, it allows you to gracefully move around like you're wearing a jacket and pants.
In addition, the double layer insulation makes it feel like you're wearing a full-body parka. The Selkbag even includes removable booties for your feet and sleeves with built-in "mittens".
Furthermore, this wearable sleeper is durable enough to wear outdoors as well as inside. In fact, many people wear their Selkbags camping, to festivals or outside at the fire pit.
Go ahead – cook, clean, play games, pull out your guitar or go for a walk. The options are limitless because a Selkbag won't hold you back.
Compared to a Snuggie or a wearable blanket, these sleeping bag onesies definitely have a lot more functionality. With insulated arms and legs, you move around with ease while still staying totally warm.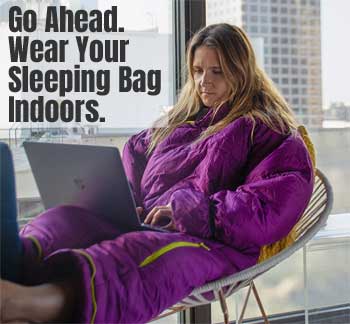 Want to Stay at Home? That said, no one will stop you from wearing your Selkbag at home on the sofa. Watch a movie or read a book in total comfort. Not to mention, you'll look amazing too.
Too Hot? But what if you get too hot – no problem! Simply unzip your leg vents, take your hands out of the sleeves and pull down your hood.
Too Tired? What if you feel tired – the solution is easy! Pull up your hood, zip your booties on, retract your hands back into your sleeves and go lay down in your tent.
There's no need to get out of your sleeping bag and change into pajamas. Think of all the time you'll save!
Selkbag 5G VS 6G – What's Different?
The newer Selk'bag has several upgraded features. You'll probably appreciate these new additions, plus you won't have to pay any extra money for them. =)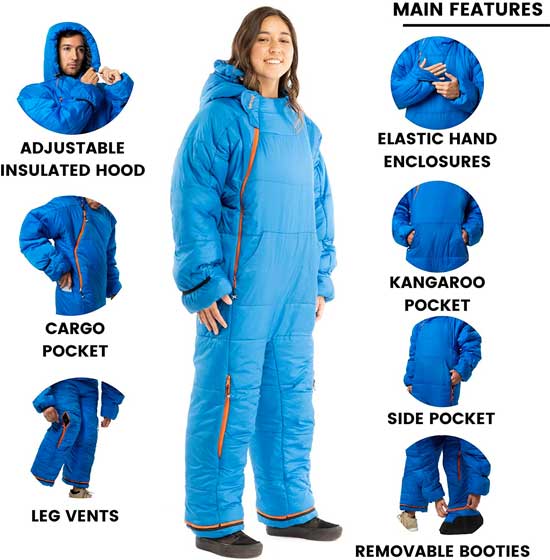 1. First of all, the sleeping bag comes with multiple pockets, including a kangaroo pouch, plus side and cargo pockets. In other words, you won't have a shortage of places to stick stuff.
2. Second, the sleeves feature elastic hand enclosures. This makes it quicker and easier to take your hands out of the sleeves.
3. Third, the onesie now has a convenient side entry zipper. Therefore, you can easily access pockets in your jeans without having to unzip your entire sleeping bag.
Note: The newer 6G still includes the removable booties, leg ventilation openings and adjustable hood. However, the hood now has extra insulation, and the booties have better reinforcement on the soles. Also, the Selkbag has the same rugged good looks it did before. =)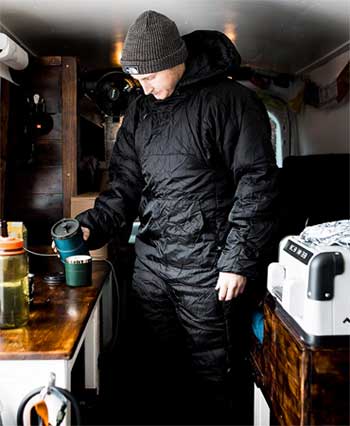 The Selk'bag Comes in 4 Sizes:
Small: Fits up to 4'11" Tall
Medium: Fits up to 5'5″ Tall
Large: Fits up to 5'11" Tall
X-Large: Fits up to 6'4″ Tall
Since this wearable is a one-piece, you want to make sure it doesn't fit too tight. In fact, many people size up because the extra space allows for more freedom of movement. Plus, the extra room makes it more comfortable for sleeping.
Also, the Selkbag 6G includes more padding than the previous 5G version. As a result, the onesie fits more snug. (Another reason to size up.)
Specs for the Selkbag 6G:
Sizes: Small, Medium, Large & Extra Large
Weight: Approximately 3.5 lbs
Outer Material: Rip Stop Nylon
Insulation: Hollow Fiber Polyester Fill (2 layers)
Temperature Rating: 35 Degrees F (limit), 44 Degrees F (comfort)
Water Repellant
Stain Resistant Coating
6 Color Options: Black, Yellow, Blue, Green, Red, Purple
Closure Type: Zipper
Machine Washable
Model: Original 6G
Manufacturer: Selk'bag
For Sale: Where to Buy the Selk'bag