Do you wish you could wear your sleeping bag around all day? Do you like the idea of a Snuggie, but want more than just a wrap-around blanket? Welcome to the Sleeping Bag Onesie!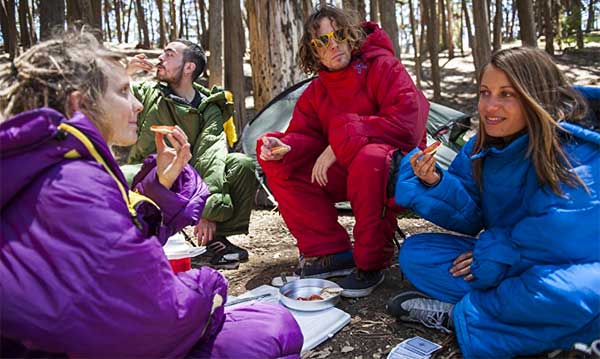 Not only can you wear it indoors or outdoors, you can sleep in it too!
The Selk'bag Sleeping Bag Onesie looks and feels almost identical to a mummy-style sleeping bag. However, it features arms and legs with removable booties.
In addition to providing comfort and functionality, this whole-body jacket simply makes you look cool. I mean, check it out…
Selkbag Sleeping Bag
The arms can completely cover your hands and keep them warm. On the other hand (no pun intended), you can roll back the sleeves to stick your hands out.
In addition, the original Selk'bag version comes with a front pocket for your hands or carrying items. Plus, the legs feature side vents that you can unzip for ventilation if needed.
Wear Your "Sleeping Bag" Camping
Arguably, the best wearable sleeping bag was originally designed for (1) camping and exploring the outdoors.
(2) Sleep in it at night with the booties attached and hands closed. Then, remove the feet and open the hands during the day while cooking, exploring and relaxing.
Plus, this sleeping bag with sleeves basically gives you the excuse to wear your pajamas all day. And, you don't even need to brush your hair. I mean, it's a real time-saver.
More info on the Selk'bag
Yes, You Can Wear Your Sleeping Bag Onesie Indoors…
You can be lazy in a Selkbag too because it is perfectly acceptable to wear a sleeping bag onesie at home. They make the perfect accompaniment to (3) watching movies, (4) reading a book or (5) gaming.
However, for home wear, might I suggest the Selk'bag Lite. This version provides warmth and style, while having a lighter insulation and a lower price tag.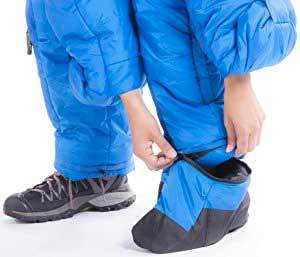 By the way, you can still walk around in the Selk'bag with the booties on. They have durable, reinforced bottoms, so they hold up fine, even if you're walking outdoors.
If you plan on moving around in your Selk'bag (and who wouldn't?), I recommend sizing up (especially if you want to walk around in the booties). This gives you room to move without feeling constricted, and while still keeping you warm. You'll also enjoy the extra space while sleeping.
Note: Might I also add that this wearable sleeping bag is super easy to put on and take off. It has a single zipper that zips diagonally up the front. Plus, the spacious sizing combined with slick nylon fabric helps it slip right on and slide right off. There's nothing quite like getting dressed in 2 seconds!
Selk Sizing:
Small (S up to 4'6″)
Medium (M up to 5'5″)
Large (L up to 5'11")
X-Large (XL up to 6'4″)
Selkbag makes their onesies unisex. In other words, consider them both men's and women's wearable sleeping bags. They provide enough room to actively move and wear clothing underneath. Therefore, even though they don't offer a plus size wearable sleeping bag, in most cases you can simply size up.
Is a Wearable Sleeping Bag Better than a Swim Parka?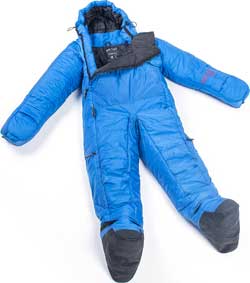 Another way you can take advantage of your Selk'bag is (6) for sports like swimming. For example, many swimmers wear long swim parkas to keep them warm when they are not in the pool.
Just imagine what a hooded sleeping bag with arms and legs and gloves and booties would feel like… And I haven't even mentioned being a spectator at sporting events like soccer or football games. Sometimes the outdoor weather isn't pleasant, you know? Being able to wear a sleeping bag with sleeves and legs takes comfort to a whole new level! =)
Note: Keep in mind that the Selkbag is not a waterproof sleeping bag, …but neither are the parkas.
Wear Your Sleeping Bag for Halloween?
If you didn't already know, you can get your Selk'bag as one of your favorite Star Wars Characters. That said, there's no reason you can't transform a red, blue or purple or black into a superhero, animal or marshmallow man.
What could be better than a (7) fun halloween costume that also keeps you comfortable and warm?
Selk'bag Sleeping Bag Onesie Specs:
Material: 100% Polyester Shell
Insulation: 37°F / 6°C Limit Temp Rating
Color Options: Black, Green, Purple, Blue, Yellow
Washable: Yes, Hand Wash, Tumble Dry on Low/Hang Dry
So, now you know the 7 ways you can wear a sleeping bag onesie: for sleeping, camping/hiking, gaming, reading, watching movies, halloween costumes and as a full-body parka at the pool. By the way, If you are looking for a Summit, Tui or Aldi wearable sleeping bag (in the UK or Australia), the Selk sleeping bag onesie is essentially the same thing.

More Info on the Selk Sleeping Bag