Do you love watching football, baseball, soccer and other outdoor sports? Do you want to stay warm and comfortable while sitting in the stadium? Then, you need a wearable blanket for adults.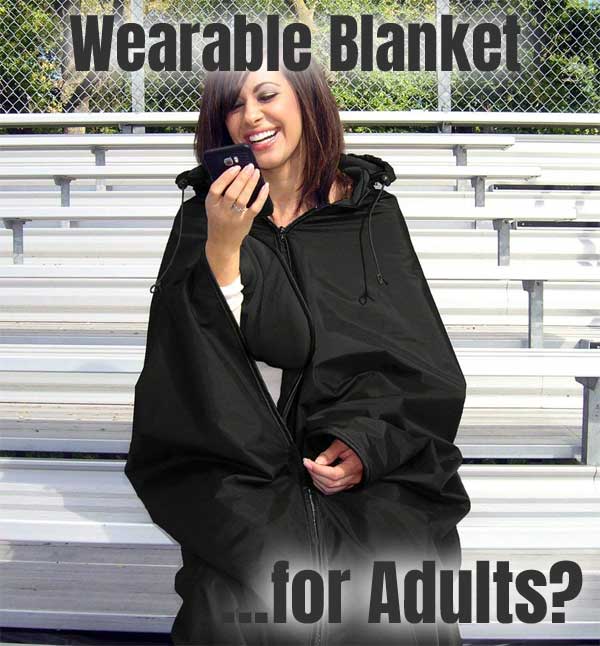 This stadium blanket doesn't look like the comforter off of your bed. Nor does it make you look like you're wearing your pajamas. Yet, it makes you just as cozy!
My Review of the Ultimate Sports Wrap Wearable Blanket:
The Ultimate Sports Wrap wearable blanket for adults is specially designed for both comfort and functionality. Plus, it makes you look good too. =)
The weatherproof outer shell is made of a durable nylon fabric that helps protect you from wind and light rain. (Keep in mind that this "jacket" is weatherproof, not waterproof).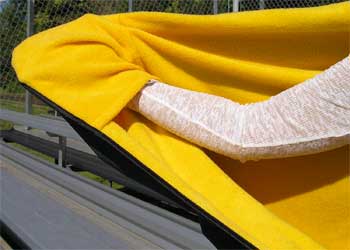 In addition, the blanket has a soft velour fleece inner lining that makes you feel cozy and warm. The inside even has built-in "hand warmers" that prevent your hands from getting chilled.
However, instead of looking like a giant blanket, the Ultimate Sports Wrap has zippers and a hood, making it appear more like a sports jacket. You can even wear it over other sweaters or jackets to keep you ultra warm.
Wearable Blanket for Adults – Specs:
Dimensions: 70″ Long x 58″ Wide
Weight: 3 lbs
One Size: Made to fit average size adults under 6′, and not exceeding 225 lbs.
Outer Shell Material: 100% Nylon Denier
Inner Lining Material: 100% Polyester, Non-Pill Velour Fleece
3 Color Options: Green, Maroon and Royal Blue
Washing Instructions: Wash in Warm/Cool Water and Hang Dry
Brand: Ultimate Sports Wrap
Alternatively, you can unfold this coat into a blanket and lay it on the ground. That's right – you can use this wrap even on a warm, sunny day.
For example, lay the durable weatherproof nylon side on the bottom with the soft fleece on the top. You've got a comfortable blanket to sit on at soccer games or for picnics or for outdoor concerts.
Or, fold it up into a smaller square or rectangular seat cushion. We know those hard metal seats make out butts go numb, right? Bring your own portable cushion that you can transform into a warm coat if the weather changes!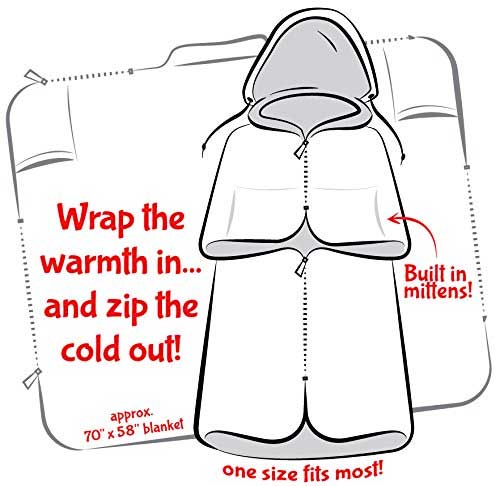 This simple design in "stadium wear" is truly genius. I mean, who doesn't want to be more comfortable while sitting in a stadium seat for hours? Not to mention, stylish. =)
Best Adult Wearable Blanket Alternatives: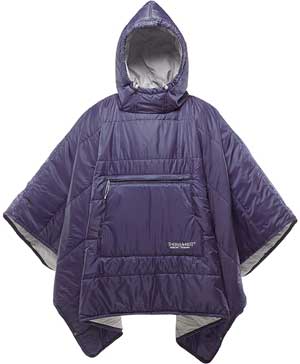 Therm-a-Rest makes a Honcho Poncho with a similar design to the Ultimate Sports Wrap. That said, it is more of a lightweight, breathable version for active outdoor adventures where you may not need as much warmth. For instance, it does not have soft fur on the inside.
I would say that the Honcho Poncho works best for hiking and camping. Or even a wearable "blanket" for walkers, due to its breathability. On the other hand, the Sports Wrap provides more warmth if you are sitting in one place, especially during winter months.
However, if you want a wearable blanket with legs for adults, check out NatureHike's sleeping bag with legs. You get warmth and insulation around your legs, plus you can use it as a sleeping bag when camping.
On the other hand, if you prefer a wearable blanket with sleeves for adults, consider the Selk'bag sleeping bag onesie (my personal favorite).