Do you like Star Wars or know someone who does? Then you will absolutely love the Star Wars Wearable Sleeping Bag – or your friend will absolutely love you! Choose from Chewbacca, Darth Vader, a Storm Trooper and a Rebel Pilot.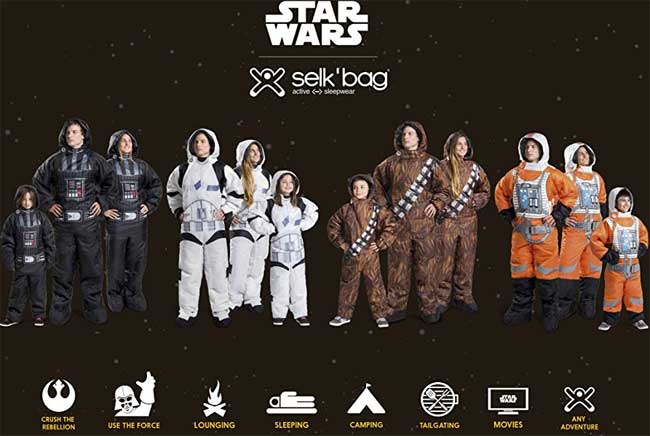 Why Get a Star Wars Sleeping Bag with Arms & Legs?
In addition to sleeping in it, you can comfortably wear this sleeping bag "outfit" for gaming, watching movies or pure entertainment. Plus, these Selk'bags have plenty of durability and warmth for outdoor use. Think camping, sports tournaments, after-ski lounging and more.
However, don't be deceived by the comfortable lounge-wear look of this sleeping bag suit. These durable, flexible wearables wear well for all sorts of activities.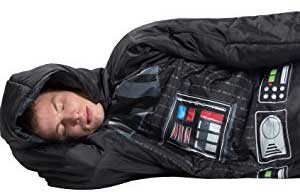 For example, unzip the removable booties and put on your regular tennis shoes or hiking boots. You can take on plenty of outdoor adventures, plus, everyone will be afraid of you.
Then, at then end of the day when you are too tired to take your clothes off, you won't have to. Simply zip on your booties, raise up your hood, lay down and go to sleep.
How is the Star Wars Wearable Sleeping Bag Different?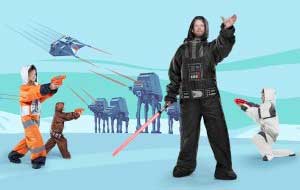 Well, besides the obvious, this sleeping bag onesie doubles as a Halloween costume. That's right, you can save so much time and money every year come October.
Impress your friends and be wearing the most comfortable Star Wars costume ever? It's even designed to keep you warm while trick-or-treating. I mean, what could be better than a sleeping bag you can wear?
Sizing:
Small (up to 4'6″)
Medium (up to 5'5″)
Large (up to 5'11")
X-Large (up to 6'4″)
Although the people below aren't dressed as Chewbacca or Darth Vader, they are goofing off in the Selk'bag sleeping bag onesies. (Virtually the same design as the Star Wars wearable sleeping bags). You can see how fun they are…
Star Wars Wearable Sleeping Bag Specs:
Material: Nylon
Weight: 2.6 lbs – 3.9 lbs depending on size
Insulation: 40°F Limit Temp Rating
4 Character Options: Darth Vader, Storm Trooper, Chewbacca or Rebel Pilot
Washable: Yes, Hand Wash, Tumble Dry on Low/Hang Dry