NatureHike makes a sleeping bag with legs – but no arms. This is a good wearable option if you prefer going sleeveless and wearing more of a vest.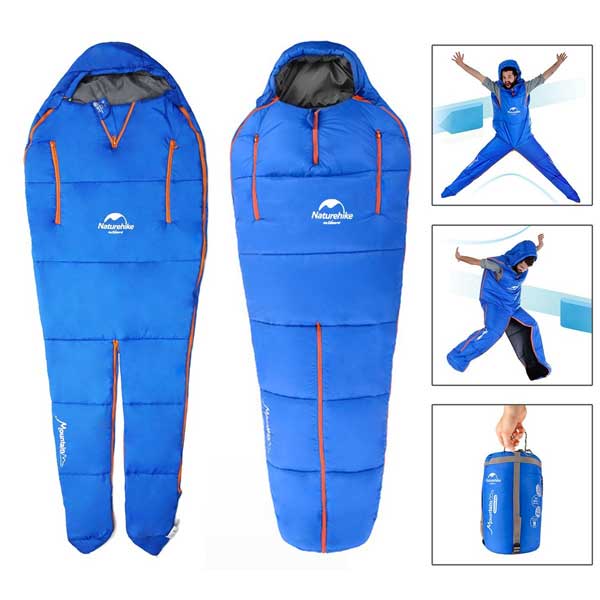 The NatureHike has a lighter weight design, made for use in temperatures over 41 degrees F. Therefore, the sleeve-free style makes more sense in warmer camping climates. Or, wear a heavy fleece jacket underneath and you'll be good to go.
In addition, the legs of this sleeper have built-in booties. Their unique design lets you walk around comfortably whether the legs are unzipped or zipped shut.
How is This Sleeping Bag Different?
1. Zip the Legs Together or Wear Them Apart
First, Compared to other wearable sleeping bags, this sack lets you zip the legs together. Therefore, you can sleep in a mummy sleeping bag at night and still walk around in it by day. This style is very much the Vango wearable sleeping bag (which is not currently available).
By zipping the legs together at night and closing the arm holes, you can conserve more body heat. Consequently, you can enjoy a warmer night's sleep even in this lighter onesie.
2. Create a Double Sleeping Bag
In addition, you can zip 2 separate sleep sacks together to create a 2-person sleeping bag. I have yet to see another sleep sack onesie offer this cool feature.
3. Save Money
This wearable sleeping bag costs less than others, priced at about $55-$60. I assume this is because you don't get the sleeves. That said, this version is not short on benefits.
Therefore, if you want a sleeping bag with legs and a hood – but you don't care about the sleeves, the NatureHike may be your perfect match.
Specs for NatureHike Sleeping Bag with Legs:
Material: 320 Denier Nylon Grid Cloth (grid cloth is known for being both durable and lightweight)
Weight: Approximately 2.5 lbs
Temperature Rating: 41°F – 59°F
2 Color Options: Blue, Orange
Machine Washable: Yes, in Front Loader
About the Company: NatureHike