The Honcho Poncho may look like a sleeping bag poncho. However, you use it a little differently, and it has some distinct advantages over a sleeping bag onesie. Below, we look at the pros and cons.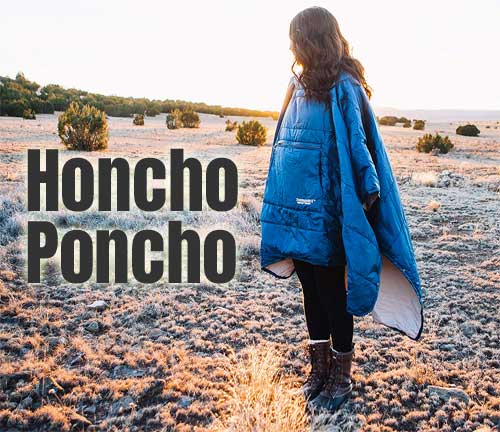 1. The Poncho Doesn't Convert to a Sleeping Bag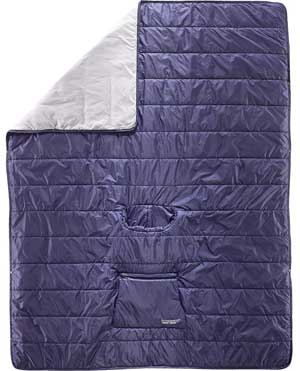 First of all, the Honcho Poncho is designed more for wearing than for sleeping. Some people use it as a blanket or to add an extra layer of warmth while they sleep.
That said, it will not take the place of a sleeping bag. It simply does not provide enough warmth for cold mountain nights, partly due to the fact that the ends don't zip together to keep cold air out.
Now, don't let me scare you away from sleeping with it though. It does have a soft, plush inside the definitely feels cozy. =)
2. This Poncho is Extremely Lightweight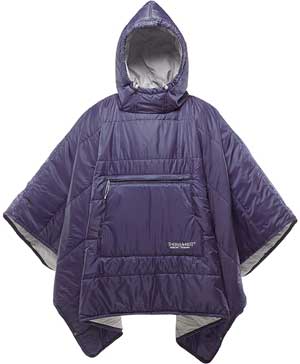 Second, this poncho blanket is extremely lightweight. In fact, it only weighs about 1 lb.
Therefore, it works great for camping or backpacking trips where you may need an extra layer of warmth, yet you don't have lots of extra packing space.
Note: The poncho squishes down so compactly that it fits inside its own built-in pouch. This pouch actually acts as a handy pocket to carry small items while you wear it.
Having said, that, if you want a wearable with a higher temperature rating or that provides better insulation and warmth, you may prefer a sleeping bag onesie.
3. Honcho Poncho is Easier to Wear than a Sleeping Bag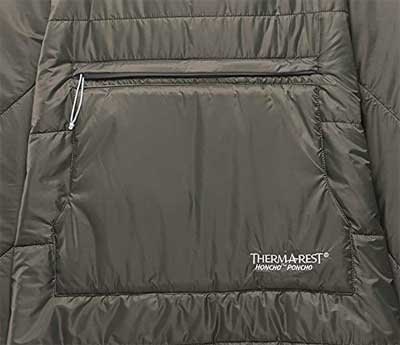 Third, you can easily wear the Honcho Poncho over other other clothing. Compared to a wearable sleeping bag, you can put it on and take it off much more easily.
You get extra warmth from the cinching hood and front kangaroo pocket, yet the jacket doesn't feel confining or restrictive.
Therefore, it makes a better option for outdoor sporting events, hiking and other activities where you move around more or need something more versatile. Plus, the water-resistant and breathable outer shell help keep you comfortable, no matter what the weather brings.
Check out the video review of the Honcho Poncho, including how to pack up and unfold the blanket. Plus, she also give a good explanation of how the synthetic insulation works so effectively.
Specs for the Honcho Poncho:
Dimensions: 79″ Long x 58″ Wide
Size: One Size Fits Most
Shell Material: Water Resistant, Breathable 20D Polyester Shell
Fill Material: 37.5 Active Partical Polyester
Lining Material: Brushed 50D Polyester Taffeta
Weight: 1.1 lbs
Color Options: Deep Purple, Yellow Curry, Olivine or Poseidon Blue
Model #: 040818095720
Brand: Therm-a-Rest 1.800.531.9531
Shop Wearable Sleeping Bags: