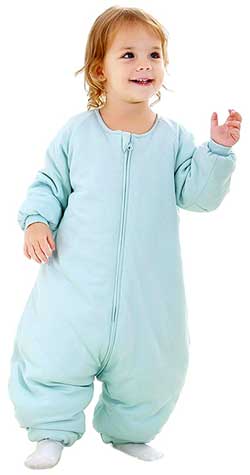 This is not your everyday onesie – or a regular sleeper. It's a plush, cozy baby sleeping bag onesie.
A Baby-Sized Sleeping Bag with Legs:
In other words, this mini sleep sack has arms and legs that allow your child to crawl or walk around. Plus, the onesie material is lightweight and weighs less than 1 1/2 pounds.
Babies stay comfortably warmer, plus this "wearable blanket" conveniently transfers right over into nap time. Not to mention, this outfit looks adorable, and it comes in either blue or pink.
Although this one-piece keeps baby nice and warm, it also features 3-way zippers. Therefore, it's easy to get your child dressed (and diaper changed too).
Note: However, unlike traditional baby onesies, this split-leg sleeping bag does not have booties attached.

So, you may want to get bootie-like ankle socks with "floor grippers" on the bottom. Keep your child's feet warm while prevent slipping accidents while running around.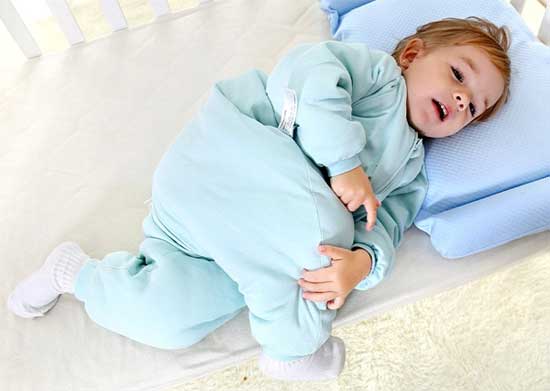 Baby Onesie Sizing:
Model 70:
Suitable for 6-18 Months, 18 – 27 lbs, 27″ to 34″ Tall Baby
Model 80:
Suitable for 18-36 Months, 24 – 35 lbs, 31″ – 38″ Tall Baby
Model 90:
Suitable for 2T-4T, 32 – 45 lbs, 35″ – 42″ Tall Baby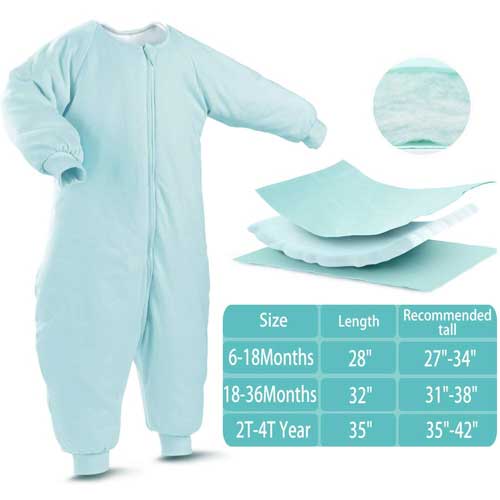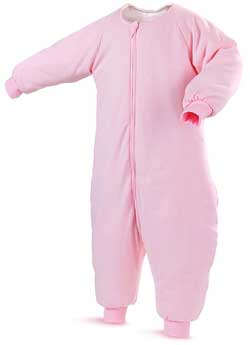 Baby Sleeping Bag Onesie Specs:
Outer Fabric & Lining: 100% Organic Cotton
Fill Material: 100% Polyester
3 Sizes: 6-18 Months, 18-36 Months, 2T-4T
2 Color Options: Blue and Pink
Weight: 1.35 lbs
For Room Temperatures 64°F- 71°F
Machine Washable
Brand: Restcloud
For Sale: Where to Buy the Sleepsuit
Woolino Sleep Sack with Feet: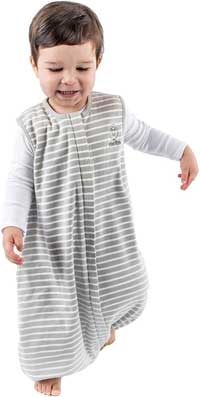 Alternatively, you can get the Woolino Sleep Sack, which is designed for year-round use.
Instead of having a thicker sleeping bag material, the Woolino has a unique wool lining that helps regulate your baby's body temperature. Plus, it doesn't have full-length insulated arms, so it can be worn in warmer weather as well.
However, this is not the standard itchy wool material. Rather, this onesie is made of silky-soft hypoallergenic Australian merino wool. In addition to working well at regulating body temperature, this fabric also naturally repels odors.
With either of thee one-piece sleepers, babies can stay comfortably warm while still being able to move around and play.