What's better than a regular sleeping bag? A furry bear sleeping bag that you can use as a giant stuffed teddy bear when you're not wearing it, of course!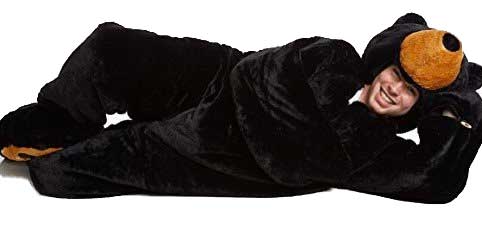 Choose from a brown grizzly bear, friendly panda bear or black bear sleeping bag onesie. (For adults and kids too!)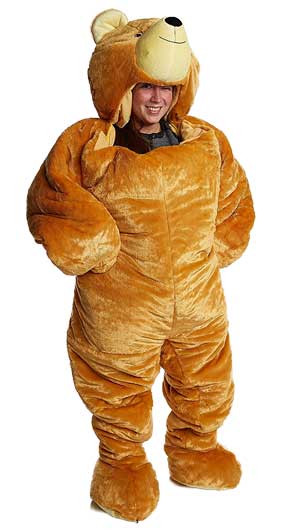 Unlike the Selk'bag sleeping bag onesies, these wearable sleeping bags are not designed for outdoor use like camping. Rather, they work better as costumes or to wear around the house.
Plus, they look like giant stuffed animals when not in use, Cuddle in them, on them or wrap them over your shoulders like a furry warm blanket.
These Snoozzoo sleepers are plush, furry and warm, and perfect for afternoon naps or watching movies. Plus, you can wash them in the washing machine!
Sizing for Bear Sleeping Bags:
The child / adult bear sleeping bag only comes in 2 sizes: one for kids, and one for adults.
The larger size can fit fairly tall people, but may overwhelm small adults. Shorter adults may fit better in the kids version.
See the sizing measurements below:
Adult-sized onesies fit people up to 6 feet 3 inches tall
Kid-sized onesies fit people up to 4 feet 6 inches tall
In addition to limited sizing, kids or adults may not find their favorite sleeping bag onesie animal. For example, Adults can only choose between the Grizzly Bear sleeping bag onesie or the Black Bear. On the other hand, kids can choose from the Panda or the Grizzly.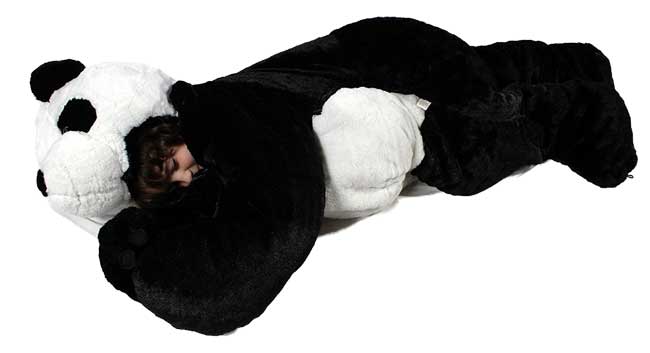 How to Save Money on Bear-Shaped Sleeping Bags
The good news is that during the spring and summer months, these furry bear outfits typically go on sale. In the wintertime, I've seen them priced upwards of $190. However, on sale, they can cost between $120 and $160.
Buy in the right season, and you can get a great deal. That said, for the family with lots of humor, these furry bear sleeping bags are priceless…
Kid/Adult Bear Sleeping Bag Onesie Specs:
Material: Cotton/poly blend lining, and soft polyester outer fur.
Washing Instructions: machine wash cold, tumble dry for 15 minutes, then hang to dry.
Snoozzoo products meet USA safety standards (including flamability, heavy metals, lead, phthalates) More info