Compare sleeping bags (with legs) before you buy! Use the sleeping bag onesie comparison chart to view prices, ratings, special features, product reviews and more…
| | | | | | | | | |
| --- | --- | --- | --- | --- | --- | --- | --- | --- |
| Sleeping Bag Onesie: | Rating 1-5 | Price (approx) | Shell Material | Sleeves | Color | Temp Rating | Washable | Special Features |
| Selk'Bag | 4.5 | $169-275 | 100% Polyester | Sleeves | Black, Yellow, Blue, Purple or Green | 6°F or 37°F | Hand Wash, Tumble Dry on Low/Hang Dry | 2 different versions (one rated for colder temps). 6°F version also features leg vents and hand pockets. Booties can unzip & detach. See full Selk'bag review |
| Star Wars Sleeping Bag Onesie | 4.5 | $105-205 | 100% Polyester | Sleeves | Brown, White, Black or Orange | 40°F | Hand Wash, Tumble Dry on Low/Hang Dry | Choose from Chewbacca, Dark Vader, Storm Trooper or Rebel Pilot. Virtually same construction as Selk'bag above except for elastic hand openings (made by Selk'bag). Booties can unzip & detach. See complete Star Wars Sleeping Bag reviews. |
| Incredible Hulk Wearable Sleeping Bag | 5.0 | $80 | 100% Polyester | Sleeves | Light Green with Purple | 45°F | Hand Wash, Tumble Dry on Low/Hang Dry | Virtually same construction as Selk'bag above, plus booties are removable. Makes great Hulk Costume too. See complete Hulk Wearable Sleeping Bag review here |
| Camouflage Sleeping Bag Onesie | 3.9 | $129-185 | Polyester/Microfiber | Sleeves | Realtree Xtra Camo | 48°F | Hand Wash, Tumble Dry on Low/Hang Dry | Microfiber makes onesie quieter when moving. Similar construction as Selk'bags above, elastic hand openings plus removable booties. See full Camo Onesie review here |
| NatureHike Sleeping Bag with Legs | 3.7 | $60-70 | 320D Nylon | Sleeveless | Blue | 41°F | Machine Washable | Zip legs together like mummy sleeping bag, or you can wear apart. Hood has shorter zipper than other bags. See full NatureHike Sleeper review here |
| Wearable Sleeping Bag for Kids | 4.8 | $65-70 | 190T Polyester | Sleeves or Sleeveless | Red (Blue for Adults) | 37.4 °F to 46.4 °F | Washable in front loading machine. | Sleeves, booties & hands all unzip. Jumpsuit has convenient interior pockets for small items. See complete review of KingCamp for Kids/Adults |
| Bear Sleeping Bag/Stuffed Animal | 4.8 | $120-180 | Polyester Fur | Sleeves | Brown, Black or White/Black | Indoor use only | Machine Washable | Can wear as a sleeping bag, onesie, backpack or costume. Plus, it becomes a giant teddy bear when you're not wearing it. Bear Sleeping Bag Reviews |
How to Compare These Wearable Sleeping Bag Reviews:
You'll notice that most sleeping bag onesies have very similar characteristics. The main differences include whether or not they have sleeves and legs, plus the fabric.
Therefore, think about what activities you will use your wearable sleeping bag for. For example:
1. Wearable Sleeping Bag for Indoors or Outside?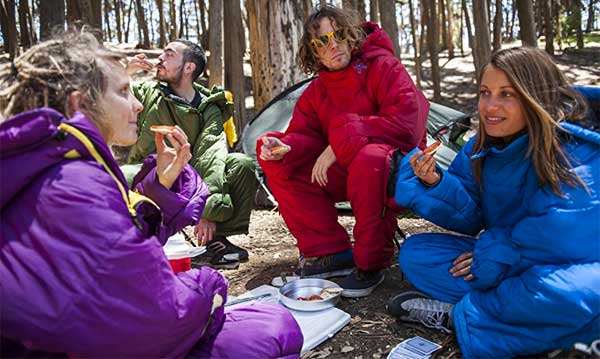 Will you use your sleeper mostly outside or indoors? Highly-insulated sleeping bags tend to get uncomfortably warm indoors, however, they feel very cozy outdoors.
2. Will You Sleep in Your Onesie?
Do you want to sleep in it, or simply wear it to keep warm? In other words, do you like to sleep in a mummy-style sleeping bag with arms and legs together, or do you care?
3. Sleeping Bag Onesie for "Activewear"?
How active will you be while wearing your sleeping bag onesie? This may determine whether or not you want sleeves, because sleeveless onesies offer your arms more freedom of movement.
4. Do You Need a Warm Halloween Costume?
Sleeping bag onesies can double as Halloween costumes, too. Just pick your favorite Star Wars character or Superhero. You won't have to wear a jacket over your costume while you're out trick-or-treating!