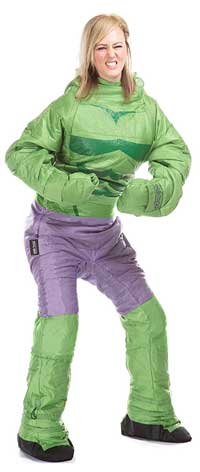 Yes, there is such a thing as an Incredible Hulk Sleeping Bag. Plus, it has legs as well as a hood!
That's the Good News.
You can sleep in it, walk in it and even wear it as a costume.
However, you don't have to wear it only when you want to dress up. The Incredible Hulk onsesie is so comfortable that you might get addicted to it after the first try-on.
By the way, Selk'bag makes this green superhero wearable sleeping bag. They are known for their high-quality, ultra comfortable sleepers.
In fact, I like to wear my Selk'bag around the house daily during the winter months. Whether I am watching a movie, working on the computer or reading a book, this outfit makes me feel so cozy.
Note: That said, the built-in legs and sleeves make this sleeping bag very functional. I mean, you can walk around, get chores done, etc.. You may be more productive than ever before!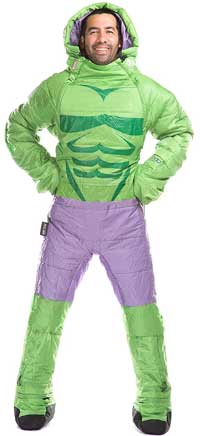 For example, unzip the booties, stick your hands out of the sleeve openings and pull down the hood. The hip zipper even makes it super simple to access pockets in your clothing underneath.
Once you start wearing your sleeping bag around the house, there's no going back. Plus, the Hulk onesie sleeping bag stands in an impressive league of its own.
Now that I've ranted and raved all about the Hulk, I've got some bad news.
It's hard to find this item. In addition, when I can find the actual Incredible Hulk wearable sleeping bag, it's only available in limited sizes.
Therefore, I found a not-so-good alternative. But at least it's an option, right?
Incredible Hulk Sleeping Bag Onesie Option #2
Although not as cool-looking as the Incredible Hulk, this green wearable sleeping bag is just as comfortable. Plus, it's a lot easier to purchase. I mean, you'll find more of them.
This green wearable sleeping bag does have the advantage of front pockets for your hands. Also, this Selk'bag version has more insulation. Therefore, it will keep you warmer.
Don't worry, though. It does feature 2 side leg vents that you can unzip should you get to hot.
Of course, if you decide to wear it outdoors, this warmer onesie is better for camping. Plus, this evergreen/camo/olive-colored version can help you hide in the woods. Kind of, although you might prefer the Realtree camouflage sleeping bag onesie for that…